LOCATION:
HOME
> About > introduction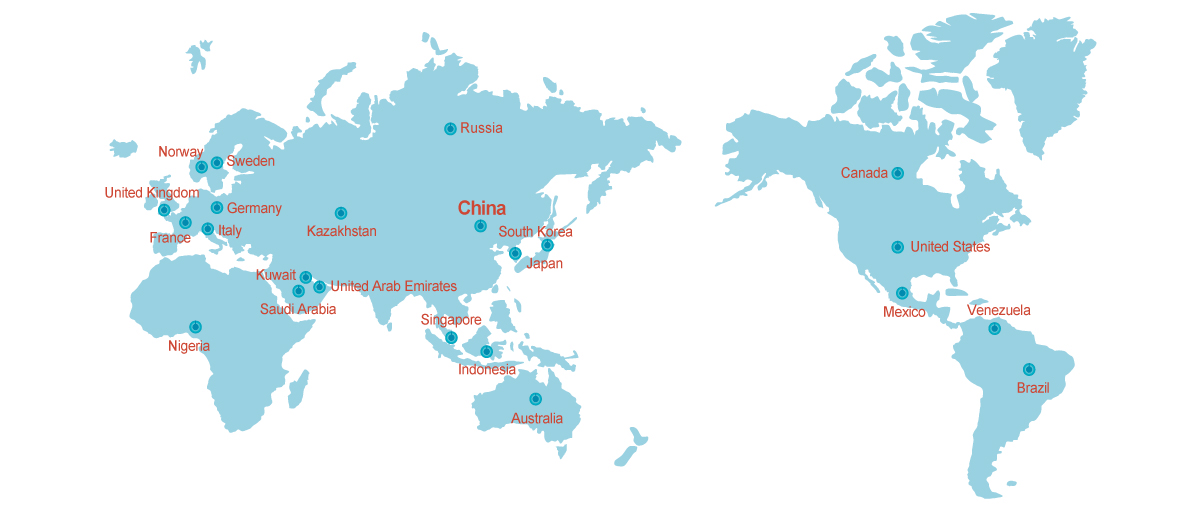 150,000
Professional Visitors
General Information
As an annual event, Beijing International Offshore Oil & Gas Exhibition (ciooe),has been held concurrently with China International Petroleum & Petrochemical Technology and Equipment Exhibition (cippe) for twentieth sessions.With a magnificent exhibition space of 100,000 sqm, 18 international pavilions, and 2,000 exhibitors and over 150,000 professional visitors from 65 countries and regions, ciooe&cippe has become one of the leading annual world petroleum & petrochemical equipment events.
ciooe2023 Beijing had an attendance of 18 national pavilions from USA, Germany, Canada, UK, France, Denmark, Italy, Russia, Korea etc. The well-known multinational conglomerates, such as ExxonMobil, Gazprom, Rosneft, Transneft, Caterpillar, National Oil Varco, Schlumberger, BHGE, Cameron, Honeywell, Philips, Schneider, DOW, Rockwell, Cummins, Emerson, AkzoNobel, API, 3M, E+H, MTU, ARIEL, KSB, Philips, Hempel, ARIEL, Atlas Copco, KSB, TE, Atlas Copco, Huisman, Sandvik, Aksa, HEMPEL, Dover, Eaton, AIMS, Allison, ContiTech, have all participated in the event.
Moreover, ciooe2023 has received great support from the domestic oil giants such as CNPC Pavilion, Sinopec Oil Engineering Machinery Company, CNOOC, CSSC, CSIC, CASC, AVIC, JEREH, HONGHUA, CIMC RAFFLES, KERUI, PanJin Oil & Gas Equipment Pavilion, RG Petro-machinery (Group)Co.,Ltd., SANY, NHI, CITIC HEAVY INDUSTRIES, CITIC PACIFIC SPECIAL STEEL HOLDINGS, YUCHAI, HBP, JERRYWON, LandOcean, ANTON, ShenKai, LanShi, SBW, NEW TIEHU, XBSY, TIDFORE, HAIMO, KOSUN, JS, SQJX, GN Solids Control, PETROKH, Rushi Machinery, DAOSEN, Tianjin LILIN, BAOGANG, OKTECH, WAROM and etc.
Over 100 professional purchasing delegates visited ciooe2023, including CNPC Pavilion, Sinopec Oil Engineering Machinery Company, CNOOC, CPP, HERION, WISON, Iraq, Mongolia Mineral and Petroleum, Saudi Aramco, ADNOC, TAQA, Gazprom, Rosneft, Transneft,Petronas, State Oil Company of Azerbaijian,Shell,TOTLA, COP, Fluor, HHI, Technip, Petrofac and etc. During the exhibition, International Petroleum & Natural Gas Summit was held which received great support and praise from industry associations and relevant governmental institutions.
The 24rd Beijing International Offshore Oil & Gas Exhibition (ciooe2024 Beijing) will be held on March 25-27, 2024 in New China International Exhibition Center,Beijing. You are welcome to participate in ciooe 2024!
Show time: March 25-27,2024
Venue:
New China International Exhibition Center,Beijing
Sponsor:
China Petroleum and Petro-chemical Equipment Industry Association
China Petroleum and Chemical Industry Federation
Organizer: Beijing Zhenwei Exhibition Co., Ltd